Archived News
Perry Walker new county chess champion
4 Sep 2014, Alan Leary reports. Club and county champion is Perry Walker (9½/14) and second placed was Les Collard (8½ points). Perry also won the Swiss tournament with a clean score on 5 points with David Bucknell second on 4 points. Paul Barker beat Kieran Lappin in the final of the Premier KO. Perry Walker beat Steve Katona in the final of the Major KO tournament. Jim Coxwell won the second division with 10½ points from 12 games and second placed was Pete Johnson with 8½ points.
Hereford Castle Chess Congress 2014
16 Mar 2014, Chess Moves Reports. Nathanael Paul (Newport, Shrops) won the Open tournament with 4½ points from 6 games; Stuart Iles (Clevedon) won the Major with 5½ points; and Stephen Crockett (Redditch) the Minor with 5 points. Just under 50 players took part in this weekend tournament held at The Green Dragon Hotel.
New chess grades out
29 Jul 2013. The new ECF grading list is out. The site has been redesigned making it simpler to check your results. The help file on the site states: "Players are advised to check that their current-season results (as published on this site) are correct. Please check as the season progresses: don't save everything for the July/August logjam. Remember, however, that games will not appear at once. Leagues usually report only twice a year, and congresses vary in promptness. In the case of incorrect or missing results, your first contact should normally be with the organisers of the event. The ECF can only grade what organisers send. But it will always correct errors which can be confirmed by the organiser, by the local grader, or indeed by the opponent. There will be cases where it is best to contact the Grading Administrator direct." Herefordshire results are graded by Steve Katona.
Local doctor new county champion
June 2013 Alan Leary reports. Steve Katona wins with 16 points from 22 games followed by Dave Bucknell on 15 points. In the Hereford Major Knockout, Pete Johnston beat Les Collard in the final. In the Leslei Baker memorial Trophy, Steve Katona won the tournament on tie-break from Les Collard. The Hereford Premier Knockout has not been completed.
Top Herefordshire Juniors at Mercia Megafinal
4 May 2013. The most successful county players were: Owen Davies (Boys under-14, Lady Hawkins HS); Mia Price (Girls under-11, Hfd Cathedral Sch), Tom Skerrett (Boys under-9) and Ryan Price (Boys under-8) both Hfd Cathedral Jun. All scored 6 points from 6 games to win supremi cups and titles. Other Herefordshire supremi were: Hannah Drury (Girls under-13, Bishop of Hfd's Bluecoat Sch); Julia Baker (Girls under-13, Hfd Cathedral Sch); William Owen (Boys under-12, Hfd Cathedral Sch); Madalaine Lerigo (Girls under-9) and Oliver Renfree (Boys under-7) both from Whitchurch Primary, Ross-on-Wye. This successful event was organised by Richard Croote.
Roger Aris wins Anniversary Tournament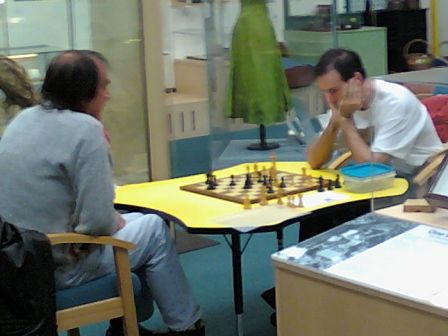 The Anniversary Tournament at Hereford Museum & Art Gallary
1 Dec 2012. Roger Aris was placed first with 4½/5. This year was a double anniversary for the Hereford City club. The 200th year that there has been a chess club in Hereford and the 50th year since the club was refounded in 1962. To celebrate there, was a special exhibition and tournament was held in the Herefordshire Museum & Art Gallery. Each day during the week there were three games between local experts: Roger Aris, David Bucknell, Kieran Lappin, Barry Griffiths, Steve Katona, Alan Leary. The tournament was held 27 Nov to 1 Dec.