Venue and Next Meeting Night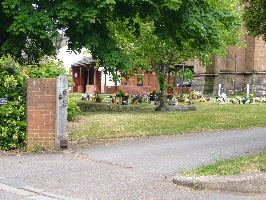 Winter Venue (Sep to May). Picture shows the entry to the church precincts from St Stephen's Street and the covered way to the main door of the church hall between the trees towards the left. St Stephen's Church Hall, St Stephen's Street Worcester WR3 7HS. For location map, click here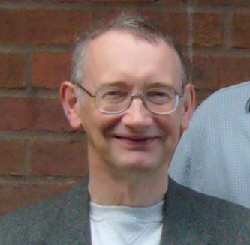 Hon Secretary & Treasurer
Ray Collett
Upcoming in Worcestershire and nearby
Click on the congress name for more details, entry form or organisers' contact details

Volunteers required for Chess in Schools & Communities please contact John Wrench West Midlands organiser.
Sun 20 May. Worcestershire Megafinal UK Chess Challenge at The King's School Worcester 10am to 4pm. Winners of school and junior club UK Chess Challenge competitions enter on-line using the national website.
Sat-Sun 26-28 May. Cotswold Congress at The King's School, Gloucester. GL1 2BG. Open, u155 and u125 tournaments, 5 rounds.
Worcester knocked out of Wheatley Cup
10 Apr, John Hesketh reports. We arrived in style in a slightly vintage classic car at Wythall for our team kandicap match. Having done the maths, it worked out that 4-1 would be victory to them, 3½ - 1½ and we would win. Ed Osbourne won his game. All we needed now was a draw to clinch this. I pushed too hard in the early part of the game with a less than cautious development, losing a bishop at the end of exchanges. I pressed on in the hope of recovering, but the opportunity didn't materialise. The results trickled in, our heroes were falling like nine pins. Phil was the last to finish. As it turned out, Phil was defeated by a really strong player. The final result was 4 – 1 to Shirley and Wythall. So with the handicap a victory for them. Congratulations Shirley & Wythall.
Vernon placed second at Coulsdon
31 Mar. Colin took time out from his studies to compete at Coulsdon this weekend. He was joint 2nd in the u1500 competition.
Semi-final draw for championship and rapidplay tournaments
30 Mar. Championship KO stage Alistair Macnaughton (1st) vs Joe isherwood (player who has played most games and not qualified by score) Nick Harris (2nd) vs Ray Collett (3rd) Rapidplay KO stage Andrew Farthing (1st) vs Ray Collett (player who has played games and not qualified by score) Nick Harris (2nd) vs Rob Sutton (3rd). See details..
Secretary oversees first Riversides School Chess Championship
28 Mar. Ray Collett helped out at the Riversides School in Spring Gardens at a tournament organised by Todd Reeves. Todd, a new member of staff at the academy, has actively supported the club and a high proportion of the school's senior pupils play the game. The best players competed for the school championship in a series of speed games and Ray was impressed by the quality of their play.
Pawns team's mixed fortunes
22 Mar. Pawns lose to bottom-of-table Kidderminster Rooks. Once again they are likely to come second in the District Division 2 Championship.
15 Feb. A splendid victory over Greenlands redeems the previous week's result. Alistair Macnaughton, Phil Smith and Roger Yates win their games.
7 Feb. Pawns lose heavily to Kidderminster Pawns and new player Robin Hayles gains the team's only win
City team draw away with Olton
20 Mar. The team had a lucky escape from defeat having already conceded a board with a defailt in their away match with Olton. Peter Kitson, and Stephen Mellor won, Peter in double-quick time.
Good wins for Bishops team
15 Mar. A solid win against Redditch powered by wins from Nick Harris and Alistair Macnaughton takes the team to mid-table.
1 Feb. An excellent home win over Redditch A with a full-strength team. Peter Kitson, Stephen Mellor and Nick Harris won their games.
10 Jan. The year began with a draw against Stourbridge A. Peter Kitson won his game.
Read older news ...