2017-8 season news
Most recent news item is at the top of this page.
Nick Harris Rapidplay Champion
6 Sep. On the first day back at winter HQ, St Stephen's Church Hall, Nick Harris beat Ray Collett in the 2017-8 Rapidplay Final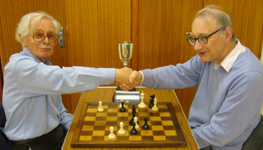 Colin Vernon wins grading prize at Coulsdon
24 Aug. In the Jessie Gilbert International tournament, Colin scored 2½ points out of 4 to win the under-100 grading prize and took third place in his section.
Stephen Mellor pipped for county championship
19 Aug. Stephen tied with Malvern player Lee Davis on 4 points at the Worcestershire Closed Championship held at The King's School Worcester, but was just behind on tie-break. Former Worcester player Phillip Austin won the prize for best ungraded player in his first tournament outing for 20 years.
Team captains gain awards at annual meeting
31 May. Andrew Farthing presented the most improved player award - the Dollin Salver - to John Hesketh (left) and the best performance for the Pawns team to team captain Roger Yates (right)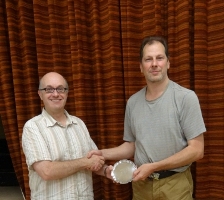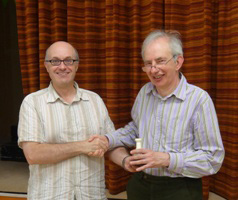 New member Alistair Macnaughton wins club championship
21 May. Final played at Droitwich. Ray chose an unusual line in Bishop's Opening and Alistair soon nulified white's advantage of the move. In an apparently equal and queenless position he found an excellent move to shatter white's pawns. From here, Alistair the new member increased his advantage and won pawns in the exchanges to go into an easily won rook and pawn ending.
10 & 14 May. Semi-final results. New members Alistair and Joe faced each other in the earlier game with Alistair winning on 10 May. In the second semi-final played at Droitwich, Ray beat Nick in a hard fought game.
30 Mar. Championship KO stage Alistair Macnaughton (1st) vs Joe isherwood (player who has played most games and not qualified by score) Nick Harris (2nd) vs Ray Collett (3rd) Rapidplay KO stage Andrew Farthing (1st) vs Ray Collett (player who has played games and not qualified by score) Nick Harris (2nd) vs Rob Sutton (3rd). See details.
Worcester knocked out of Wheatley Cup

10 Apr, John Hesketh reports. We arrived in style in a slightly vintage classic car at Wythall for our team kandicap match. Having done the maths, it worked out that 4-1 would be victory to them, 3½ - 1½ and we would win. Ed Osbourne won his game. All we needed now was a draw to clinch this. I pushed too hard in the early part of the game with a less than cautious development, losing a bishop at the end of exchanges. I pressed on in the hope of recovering, but the opportunity didn't materialise. The results trickled in, our heroes were falling like nine pins. Phil was the last to finish. As it turned out, Phil was defeated by a really strong player. The final result was 4 – 1 to Shirley and Wythall. So with the handicap a victory for them. Congratulations Shirley & Wythall.

Vernon placed second at Coulsdon

31 Mar. Colin took time out from his studies to compete at Coulsdon this weekend. He was joint 2nd in the u1500 competition.

Secretary oversees first Riversides School Chess Championship

28 Mar. Ray Collett helped out at the Riversides School in Spring Gardens at a tournament organised by Todd Reeves. Todd, a new member of staff at the academy, has actively supported the club and a high proportion of the school's senior pupils play the game. The best players competed for the school championship in a series of speed games and Ray was impressed by the quality of their play.

Pawns team's mixed fortunes

22 Mar. Pawns lose to bottom-of-table Kidderminster Rooks. Once again they are likely to come second in the District Division 2 Championship.
15 Feb. A splendid victory over Greenlands redeems the previous week's result. Alistair Macnaughton, Phil Smith and Roger Yates win their games.
7 Feb. Pawns lose heavily to Kidderminster Pawns and new player Robin Hayles gains the team's only win

City team draw away with Olton

20 Mar. The team had a lucky escape from defeat having already conceded a board with a defailt in their away match with Olton. Peter Kitson, and Stephen Mellor won, Peter in double-quick time.

Good wins for Bishops team

15 Mar. A solid win against Redditch powered by wins from Nick Harris and Alistair Macnaughton takes the team to mid-table.
1 Feb. An excellent home win over Redditch A with a full-strength team. Peter Kitson, Stephen Mellor and Nick Harris won their games.
10 Jan. The year began with a draw against Stourbridge A. Peter Kitson won his game.

Pawns team chalk up win in local Derby

14 Dec. A strong Pawns team beat Droitwich 3-1. Rob Sutton and Phil Smith scored wins.

City team have double loss to Malvern

7 Dec & 12 Jan. In first match played at home, the result was close, but in the away match in January, a weak City team went down heavily. Ed Osbourn had a notable win on board 2 against a former county champion to stop a whitewash.

City members have mixed fortunes

4 & 7 Jan. John Hesketh won on board 12 for Worcestershire u120 team against Lincolnshire. Ray Collett, the only club members to enter the Bennett Cup competition lost his first game in 2018 against Malvern's Lee Davis after thinking too long in the middlegame and missing a tactical strike short of time near the end.

Pawns beat Droitwich, but City and Bishops teams lose to Malvern

15 Dec. Bishops team lost 3-1, but Alistair Macnaughton drew on board 1 and Ed Osbourn on board 3.
14 Dec. Pawns, playing at home beat Droitwich 3-1 with wins from Rob Sutton and Phil Smith.
7 Dec. City team lost narrowly 2½-3½. Prodigal son Ed Osbourn returned to the team to win on board 6, our only win of the night.

City team beat Halesowen 1B

28 Nov. Ray Collett standing in for skipper Stephen Mellor led the team to a secure 4-2 win at Halesowen. New player Alistair macnaughton won and Robin Hayles drew.

Club members in MCCU correspondence team

20 Nov. Rob Sutton playing for the Midlands Chess Counties Union scored a win on board 2 against the National Correspondence Chess Club.

Club teams have mixed fortunes in first matches

31 Oct in District Division 1, the Bishops lost their first match against Redditch A.
17 Oct. District Division 2 the Pawns beat mercia playing away
4 Oct in District Division 2, the Pawns won their away match against Stourbridge. The club's second new Scots signing Robin winning his game in fine style.
28 Sep In District Division 2, the Pawns drew with Redditch B. New signing Alistair achieved a draw on board 2.
21 Sep In Division 1 of the county league, City drew 3-3 with Olton.

2016-7 season news

Phil Smith wins Worcestershire chess title

21 Aug. At the Worcestershire Closed Congress, Phil Smith won the Worcestershire Veteran's championship scoring 2½ points. Three City club players, including new members Alistair Macnaughton, and Ben Fuller tied for 2nd place on 3 points with Peter Kitson in the overall championship. The 2017 County champion is Kevin Hurney of Greenlands club.

Worcester Festival chess

17 Aug. The annual charity collection at King Charles House by members of the City chess club for Maggs Day Centre collected over £90 for the homeless and socially isolated.

Peter Kitson highest graded Worcester City player

29 Jul. In the new ECF grading list Kitson remains the higest graded of Worcester players and is followed by Stephen Mellor, and Nick Harris. Phil Smith gained the most in the last six months going up 7 points.

Champion retains City title

11 & 15 May. The defending champion, Nick Harris, and challenger, Ray Collett played the first game at the club on 11 May. Playing white, Nick faced a King's Indian Defence. In a typically complex Indian middlegame, Nick gained an advantage in space and just before the first time control, Ray made what should have been a fatal error, but short of time, Nick allowed black to escape. The players agreed a draw in the closing minutes of the playing session. The second decisive game was played at Droitwich on 15 May. Ray played with the white pieces and Nick defended the black side of a Closed Ruy Lopez. Like the first game, there was a complex middlegame position, but it was hard for either player to formulate a strategy. Also, echoing the first game, Ray made an error just before the time control and Nick took control of the position. As the miutes ticked away, Ray tried a desperate sacrifice, but it was easily parried and Nick won with just over a minute left on his clock.



Nick, Worcester City Chess Champion 2017

Worcester Bishops win Worcester & District League Championship

5 Apr. The Bishops team rounded off its league triumph with an away 3½ -½ victory over Kidderminster Rooks. Jim Keene skippered the team . The last time the Bishops won the league was in 2013.
Losses for City team
30 Mar. A tough home match against Olton was in the balance until Worcester's captain on board 2 ran out of time in a complex late middlegame position. Kitson on board 1 won again on board 1.
24 Mar. City fielded a weakened team a man down in their away match against Malvern and lost 2-4. Peter Kitson won his game on board 1 and new player Robert Smolka on board 3 playing the county champion had a good position during most of the middle game before shedding pawns at the end. Closure of the M6 prevented the captain returning from his work in Manchester and it was too late to contact another player.
Worcester Bishops top District league
23 Mar.
Worcester Bishops beat Kidderminster Rooks
. David Roberts and Rob Sutton won their games. If the Bishops win their next match, scheduled for 5 April, they win the District League.
8 Mar.
Bishops team draws 2 – 2 away to Kidderminster Knights
in the District league to remain top of the table
Worcester knocked out of Wheatley Cup
27 Feb. Colin Vernon's team faced a much strengthened Droitwich team in their cup quarter final and went down 4-1.
Bishops team top District league
24 Feb. Worcester Bishops beat Malvern 2½-1½ playing aaway to take top slot in the league.
Ken Tyson

17 Feb. Kenneth J Tyson 1927 – 2017. Ken Tyson passed away peacefully on 17 February. Ken was a stalwart member of the club for a quarter of a century. He was President of the City club 1998-2000 and was captain or vice-captain of one of the club's teams continuously between 1974 and 1989. Ken was also a regular member of the county correspondence team. Over-the-board in 1976, he won the prize for the most improved Worcester club player. He also won the Worcester all-play-all competition three times, and was twice awarded the prize for best results in league matches. Outside of chess, he was head teacher of Bishop Perowne's School and author of a small volume of poetry. The funeral was held at 1pm, Mon 13 March at St Stephen's Church. The club sends its condolences to his wife, Joan, and sons Andrew and Michael.
New grades published
1 Feb. Junior player Joe Rastall comes in at 126. Gaining a point or more were: Peter Kitson, David Roberts, Phillip Smith, Stephen Alaric, and Roger Yates.
Collett unexpected winner of Blitz
26 Jan. At the Annual Blitz tournament Ray Collett was first on 8/9 points losing only to Jim Keene. Placed second to fourth were Stephen Mellor, Jim Keene and David Roberts. The tournament was controlled by Andrew Farthing. New members Robin Hayles and Robert Smolka scored 3 and 4 points respectively.
City team lose at Kidderminster
18 Jan. With a less-than-full-strength team, the City team lost 2½ - 3½ in their away match in the county league Division 1.
Pawns beat Greenlands away
10 Jan. Worcester Pawns won 3 - 1 in their away fixture at Longbridge in the Worcester & District League Division 2. Worcester's winners were Rob Sutton and Roger Yates.
Collett and Harris lead the charge
3 Dec. After the first eight games in the club championship, Nick Harris, 2016 champion, is closing in on Ray Collett on 4 points.
Bishops team beat Malvern
24 Nov. Two equally matched teams met and Worcester Bishops ran out the victors 3-1 to go top of the Worcester & District Chess league. Redditch A are second in the table, but have played one more match.
Worcester Pawns draw with Redditch B
22 Nov. Redditch turned out a strong team to meet the pawns in the away fixture at Redditch. The draw was clinched by Collett after his opponent sliped in an ending with bishops of opposite colours by allowing the bishop to sacrifice itself for his opponent's two remaining pawns. This result takes the Pawns team to the top of the District League's Division 2 table, but Stourbridge are only one point behind and with a match in hand.
City team lose to Kidderminster
17 Nov. Worcester were 1-4 down at the end of the first session of play. Collett has an advantage in his adjourned game with Chester on board 5.
City team beat Olton
25 & 4 Oct. Rob Sutton sealed the team's win by drawing on resumption of his adjourned gameIn their first home match, with Olton in Division 1 of the county league, Worcester are ahead 3 - 2 with Rob Sutton's game scheduled for a second session on 25 October. Captain Stephen Mellor on board 2 and Ray Collett on board 4 won their games.
Double win over Redditch
13 & 18 Oct. In back-to-bak fixtures the Bishops team beat Redditch A 2½ - 1½ at home in the first match and 3 - 1 away in the second in the District league.
Pawns chalk up second win
10 Oct. In their away District Division 2 match, the Pawns beat Droitwich 3½ - ½ 6 Oct. In their second match the Pawns drew at home with Stourbridge.
Nick Harris is 2016 Club Champion
6 Oct. The 2015-6 season was wrapped up after delays caused by holdays and illness. The first game between Nick Harris and Alaric Stephen was played on 5 September and was drawn. The play-off, was scheduled for late September but was called off because of illness of one of the finalists. At the re-scheduled date on 6 October, veteran player Nick Harris beat former Worcestershire Junior champion Alaric Stephen to win the 2016 championship. Nick Harris said: "I'm very pleased to be champion at the age of 79. The final replay was a tense game. I had to fight hard against a strong attack by my rapidly improving opponent, who slipped up only late in the contest."
Pawns beat Mercia on night with two home matches
29 Sep. In the first home match of the season, Worcester Pawns notched up the first win beating Mercia 2½ - 1½. The Bishops team had a delayed start because of traffic jams in town and the team made a late substitution to on board 4 to earn junior Joe Rastall (Worcester Sixth Form College) his first 'cap' in division 1. The Bishops lost 1½ - 2½ to Kidderminster Knights setting back their hopes to win the District League championship this season.
Nick Harris is 2016 Club Champion
6 Oct. The 2015-6 season was wrapped up after delays caused by holdays and illness. The first game between Nick Harris and Alaric Stephen was played on 5 September and was drawn. The play-off, was scheduled for late September but was called off because of illness of one of the finalists. At the re-scheduled date on 6 October, veteran player Nick Harris beat former Worcestershire Junior champion Alaric Stephen to win the 2016 championship. Nick Harris said: "I'm very pleased to be champion at the age of 79. The final replay was a tense game. I had to fight hard against a strong attack by my rapidly improving opponent, who slipped up only late in the contest."
City team draw with Halesowen
13 Sep. In their first outing in the County league this season, Worcester drew 3-3 with a higher graded Halesowen team. Only two games were decisive with Alaric Stephen on board 5 being the Worcester victor. Worcester were perhaps fortunate that Halesowen's captain was unable to play. For details of the match visit Worcestershire Chess League website.
Start of the new chess season
1 Sep. The club's now back in its Winter HQ at St Stephen's Church Hall. Nick Harris and Alaric Stephen played in the 2016 club championship final, but their first game was a draw. The second game was planned for 15 September but one of the finalists was ill. New Grades published: Alaric makes big gain 24 Jul, Andrew Farthing reports.Peter Kitson 178 (+3) Nick Harris 167 (+4) Steve Mellor 166 (-9) Jim Keene 160 (+1) David Roberts 150 (-3) Ray Collett 144 (+2) Alaric Stephen 139 (+13) Rob Sutton 127 (-2) Phil Smith 108 (-5) Colin Vernon 106 (+1) Roger Yates 95 (+5) John Hesketh 80 (-3). For other county players' grades vist the ECF grading database.
Members raise funds for Maggs day centre
25 Aug. City members collected over £60 for Magg's Day Centre - local charity for the homeless - at their summer HQ King Charles House in the summer Festival chess event.
Ray Collett wins the Stoulton handicap rapidplay tournament
16 July. Ray won this event organised by Terry Radford for Droitwich players. After losing the exchange to a knight fork in the early middlegame and grafting away to get a draw in the first round, the winner never looked back.
Chess at the Active Age Festival
11 Jun. Nick Harris and Pat Greenow manned the City club's stall at the Active Age Festival at the Worcester Arena.
Annual meeting
26 May.There were only two changes of officers: Stephen Mellor takes over from Rob Sutton as captain of the City team in Worcestershire Chess League Division 1 and Andrew Farthing takes up the post of competitions secretary. Awards were made to: Rob Sutton, the Rapidplay Champion; Stephen Mellor, the Blitz Champion; Ray Collett, best performance in the City team; Peter Kitson, best performance in the City team; Phil Smith, best performance in the Pawns team and Alaric Stephen most improved player. The final of the club championship is between Alaric Stephen and Nick Harris.