Upcoming in Worcester and nearby
Click on the congress name for more details, entry form or organisers' contact
details
Sun 21 Oct. Birmingham Rapidplay at Quinborne Community Centre, Ridgacre Road, Birmingham B32 2TW. Start 10:30 am; FIDÉ Open, u170, u140, u110 sections; 7 rounds.
Wed 31 Oct-4 Nov. 4NCL International Congress at Park Inn, Telford. Nine round congress. FIDÉ Open, FIDÉ u2050, FIDÉ u1825 and ECF u120 tournaments.
See Worcester News feature about our Summer HQ, The Paul Pry, for good food and drink.
Fair start to new season
10 Oct. Bishops draw their District Division 1 away match with Kidderminster Knights.
9 Oct. Pawns beat Greenlands away in their District Division 2 match.
30 Sep. Two matches have been completed. In County Division 1, the City team were lucky to draw with Olton and in the District League Division 2, the Pawns team lost to last year's division champions Redditch B. Already, more rapidplay championship games have been played at the club and the club welcomes three new members: Simon Berry, Matthew Holmes and William Kemp.
Nick Harris Rapidplay Champion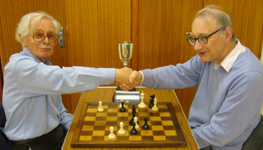 6 Sep. On the first day back at winter HQ, St Stephen's Church Hall, Nick Harris beat Ray Collett in the 2017-8 Rapidplay Final
Colin Vernon wins grading prize at Coulsdon
24 Aug. In the Jessie Gilbert International tournament, Colin scored 2½ points out of 4 to win the under-100 grading prize and took third place in his section.
Stephen Mellor pipped for county championship
19 Aug. Stephen tied with Malvern player Lee Davis on 4 points at the Worcestershire Closed Championship held at The King's School Worcester, but was just behind on tie-break. Former Worcester player Phillip Austin won the prize for best ungraded player in his first tournament outing for 20 years.
Team captains gain awards at annual meeting
31 May. Andrew Farthing presented the most improved player award - the Dollin Salver - to John Hesketh (left) and the best performance for the Pawns team to team captain Roger Yates (right)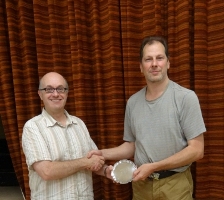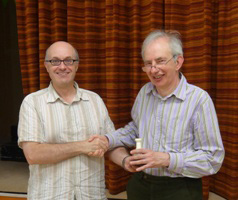 New member Alistair Macnaughton wins club championship
21 May.
Final played at Droitwich
. Ray chose an unusual line in Bishop's Opening and Alistair soon nulified white's advantage of the move. In an apparently equal and queenless position he found an excellent move to shatter whit'e pawns. From here, Alistair the new member increased his advantage and won pawns in the exchanges into an easily won rook and pawn ending.
10 & 14 May.
Semi-final results
. New members Alistair and Joe faced each other in the earlier game with Alistair winning on 10 May. In the second semi-final played at Droitwich, Ray beat Nick in a hard fought game.
30 Mar.
Championship KO stage
Alistair Macnaughton (1st) vs Joe isherwood (player who has played most games and not qualified by score) Nick Harris (2nd) vs Ray Collett (3rd)
Rapidplay KO stage
Andrew Farthing (1st) vs Ray Collett (player who has played games and not qualified by score) Nick Harris (2nd) vs Rob Sutton (3rd).
See details.