Upcoming
Competition titles in green are links to further information or the event organiser
Worcester players at Cotswold Congress
6 Jun. Colin Vernon scored 2½ points from his 5 games in the Minor (u1650) tournament.Former Worcester player Matthew Holmes now playing for Witney since his move scored 3½ points and won a rating prize in the Major (u1850) tournament. Club President Andrew Farthing assisted with this three-day event played at Gloucester and ran a charity chess bookstall that raised over £600 for St Richard's Hospice.
Phil Austin wins City Blitz tournament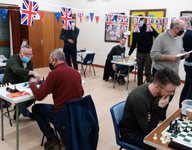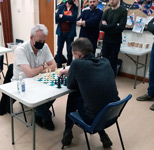 26 May. At a well attended tournament, there were two Groups of players in the preliminary stage. In Group A Phil Austin and Stephen Mellor shared first place with 6 points from 7 games with Simon Berry and Doug Nicholls on 4 and Tony Shaw on 3 points. In Group B, Ed Osbourn was first on 7 points, and Rob Sutton was runner-up on 6 points. A former champion Ray Collett was third on 5 points and new member Scott Oxtoby was fourth on 4 points. In the semi-finals Ed Osbourn (w) lost to Phil Austin and Stephen Mellor (w) beat Rob Sutton. In a hard fought final, Phil Austin, playing white, won on time.
Worcester players at Nottingham
24 Apr. Colin Vernon entered the Minor and new player Hugh Rendle, his first competition in the Improvers tournament. Both players finished on 2 points. Hugh acquired his first standard play rating of 1409.
Worcester Wolfpack runners-up in 4NCL Online Division 5
19 Apr. Worcester Wolfpack finished the season in fine style beating Bromley 2½-1½. This placed them in second position behind Beckenham and ensures their promotion to Division 4 for the Summer season. See details.
Team results
5 Apr. In 4NCL Online Division 5, Worcester Wolfpack beat Harrow Juniors first team 2½-1½.
31 Mar. Worcester City beat Malvern in Division 1. See details
23 Mar. Worcester & Droitwich lost the away fixture in Division 2 against Redditch. See details
22 Mar. Worcester Wolfpack drew against East Kilbride Rovers in the 4NCL Division 5 fixture.

Patrick Greenow
| | |
| --- | --- |
| 17 Mar. We have learned that Patrick passed away peacefully at home on Thursday at the age of 94. Patrick was an honorary life member of the club having served most recently as the club's treasurer between 2006 and 2010. He was, however, much more active in the management of the city club in the late 1950s and early 1960s having served as the club's president in 1963 and was club secretary serving as its representative in the county association. Pat played with success on the lower boards of the first team in the late 1950s and won the Woolwich handicap trophy in 1983 and the 5-minute tournament the following season. He was also team Captain or Vice-captain of a team in the lower division of the district league in the early 1980s. Pat has been missed since having to give up attending the club a few years ago after an episode of ill-health. Never complaining and always a gentleman, Pat was one of the stalwarts that ensured Worcester chess thrived. In addition to chess, Pat was a noted local watercolourist and for a few years was Churchwarden for St Stephen's Parish Church. He taught water colour to classes of the University of the Third Age for several years and exhibited with the Worcester Society of Artists. Patrick is survived by his wife Vivien, children Jeremy, Charles, Cecily and grandchildren to whom we extend heartfelt condolences. | Pat Greenow in 2003 |