Venue and Next Meeting Night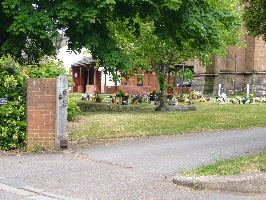 Winter Venue (Sep to May). Picture shows the entry to the church precincts from St Stephen's Street and the covered way to the main door of the church hall between the trees towards the left. St Stephen's Church Hall, St Stephen's Street Worcester WR3 7HS. For location map, click here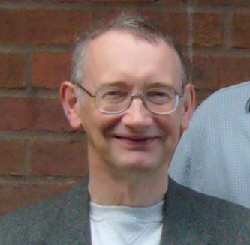 Hon Secretary & Treasurer
Ray Collett
Upcoming in Worcestershire and nearby
Click on the congress name for more details, entry form or organisers' contact details

Volunteers required for Chess in Schools & Communities please contact John Wrench West Midlands organiser.
Wed 28 Feb. An evening of competitive chess for junior and social players at The Riverside School, Spring Gardens Worcester WR1 2AE. 5:30pm-8:30pm. Please contact Todd Reeves.
Fri 2 Mar. Midland Sinfonia with Nic Fallowfield at 7:30pm in St Laurence's Church, Alvechurch, B48 7SB. A programme of Hayden, Mozart and Schubert.
Sun 20 May. Worcestershire Megafinal UK Chess Challenge at The King's School Worcester 10am to 4pm. Winners of school and junior club UK Chess Challenge competitions enter on-line using the national website.
Sat-Sun 26-28 May. Cotswold Congress at The King's School, Gloucester. GL1 2BG. Open, u155 and u125 tournaments, 5 rounds.
New member Macnaughton leads in championship
Alistair Macnaughton is on 4 points having played six games without loss. He is followed by current champion Nick Harris half a point behind and Ray Collett on 3 points. In the Rapidplay championship, Andrew Farthing is on 2 points and Nick Harris on 1½ points. The preliminary stage closes on 22 March. See details..
Pawns team chalk up win in local Derby
14 Dec. A strong Pawns team beat Droitwich 3-1. Rob Sutton and Phil Smith scored wins.
City team have double loss to Malvern
7 Dec & 12 Jan. In first match played at home, the result was close, but in the away match in January, a weak City team went down heavily. Ed Osbourn had a notable win on board 2 against a former county champion to stop a whitewash.
City members have mixed fortunes
4 & 7 Jan. John Hesketh won on board 12 for Worcestershire u120 team against Lincolnshire. Ray Collett, the only club members to enter the Bennett Cup competition lost his first game in 2018 against Malvern's Lee Davis after thinking too long in the middlegame and missing a tactical strike short of time near the end.
Pawns beat Droitwich, but City and Bishops teams lose to Malvern
15 Dec. Bishops team lost 3-1, but Alistair Macnaughton drew on board 1 and Ed Osbourn on board 3.
14 Dec. Pawns, playing at home beat Droitwich 3-1 with wins from Rob Sutton and Phil Smith.
7 Dec. City team lost narrowly 2½-3½. Prodigal son Ed Osbourn returned to the team to win on board 6, our only win of the night.
Read older news ...