Upcoming
Competition titles in green are links to further information or the event organiser
Sat & Sun 20 & 21 August Worcestershire Closed Championship at The King's School Worcester, WR1 2NB. Four rounds, 75min+30sec increment. Trophies for overall winner, highest scoring female, senior, veteran, and junior players. Entry only £10.

POSTPONED

. Worcestershire Junior Quickplay tournament. Under-16 and under-11 trophies. Five rounds, 10min+5sec, for players from Worcestershire and Dudley MBC. It is hoped to hold this tournament on a weekend day in school term time before Christmas.
ECF on line tournaments most days and weekends
Summer Chess at the Paul Pry on Mondays till end August
20 Jun. There was a good attendance at the first 2022 summer chess at The Paul Pry.
Online team made official
16 Jun. At the club's 186th annual meeting made plans for the 2022-3 season starting in September. The unofficial Worcester Wolfpack online team playing in the Four Nations Chess League (4NCL) will play in Division 4 next season and be managed by Ray Collett. The club will enter at least three over-the-board teams and Rob Sutton will captain the City team in Division 1. The secretary and president reported that the club had bounced back from the Covid lockdowns and several new members had joined. Officers were re-elected. The role of honorary secretary and treasurer was split and Jim Keene takes on the treasurer's role. Stephen Mellor (Highest scorer in Division 1), Phil Austin (Lightning chess champion), and Oxtoby Scott (Most improved player) received their trophies.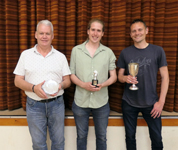 Worcester players at Cotswold Congress
6 Jun. Colin Vernon scored 2½ points from his 5 games in the Minor (u1650) tournament.Former Worcester player Matthew Holmes now playing for Witney since his move scored 3½ points and won a rating prize in the Major (u1850) tournament. Club President Andrew Farthing assisted with this three-day event played at Gloucester and ran a charity chess bookstall that raised over £600 for St Richard's Hospice.
Phil Austin wins City Blitz tournament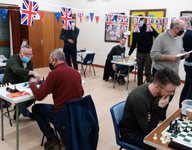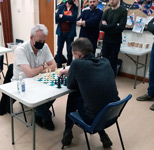 26 May. At a well attended tournament, there were two Groups of players in the preliminary stage. In Group A Phil Austin and Stephen Mellor shared first place with 6 points from 7 games with Simon Berry and Doug Nicholls on 4 and Tony Shaw on 3 points. In Group B, Ed Osbourn was first on 7 points, and Rob Sutton was runner-up on 6 points. A former champion Ray Collett was third on 5 points and new member Scott Oxtoby was fourth on 4 points. In the semi-finals Ed Osbourn (w) lost to Phil Austin and Stephen Mellor (w) beat Rob Sutton. In a hard fought final, Phil Austin, playing white, won on time.
Worcester players at Nottingham
24 Apr. Colin Vernon entered the Minor and new player Hugh Rendle, his first competition in the Improvers tournament. Both players finished on 2 points. Hugh acquired his first standard play rating of 1409.
Worcester Wolfpack runners-up in 4NCL Online Division 5
19 Apr. Worcester Wolfpack finished the season in fine style beating Bromley 2½-1½. This placed them in second position behind Beckenham and ensures their promotion to Division 4 for the Summer season. See details.