First Worcester Open 2009
Tournament Director Andy Moore was delighed that over 60 players had entred for this tournament held at Catshill, Bromsgrove in support of a charity for a poorly understood knee condition known as plica.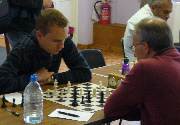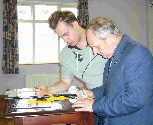 Left above: Steve Mellor (left) faces John Pitcher (right) in their final round game.
Right above: Andy Moore (left) and Ray Dolan (right) check the prize giving list
Pictures by Ray Collett
Junior players won two of the sections and third placed in the Open section was Brandon Clarke, the talented 13 year old junior international from Littleworth, Leicestershire. Particularly impressive was Brandon's patient handling of the white side of a Ruy Lopez Opening in the last round to force a win against a former Worcestershire Champion. The other junior winners were Chris Smith from Quinborne Chessmates in the Major and Manpreet Sangha in the Minor. Among Worcestershire County players, Steve Mellor (Worcester City) just missed out on the prize list in a tough final round game and ended with 3 points. In the Minor section, Ian Clack from Redditch gained third prize.
Andy Moore was ably assisted in controlling the tournament by Ray Dolan and Andrew Farthing.
Open
First: John Pitcher (South Birmingham) winning the Armageddon playoff. against second placed Lawrence Cooper (Stafford) both on 4½ points in standard play games. Third: Brandon Clarke (Littleworth, Leics) 3½ points.
Major
First: Chris Smith (Quinborne Checkmates) 4½ points. Second: Dave Faulkner (Welwyn & Hatfield) 4 points. Third prize was shared between: Tom Robinson (Redditch); Simon Smith (Warley Quinborne); Steve Murdoch (Penrith) all on 3½ points.
Minor
First: Manpreet Sangha (Rushall) winning the Armageddon play-off against second: placed Kevin Engelbrecht (Wimbledon) both on 4½ points in standard play games. Third: Ian Clack Redditch 4 points. For full results use the left menu button.
The Worcester News report is available here.