Kevin Hurney 2017 champion
Low cost format and venue are a hit
Your secretary did not have the energy to organise an open congress and the 2017 annual meeting approved a plan for a closed congress with trophies for winners and no cash prizes. There were sufficient entry fees to provide free biscuits, fruit, tea, coffee and soft drinks throughout the congress.
Eligibility for entry was by any of the following criteria: (a) playing for a Worcestershire County team; (b) Membership of a WCA-affiliated club; (c) residence within Worcestershire or Dudley. The tournament was controlled by Andrew Farthing and Kevin Markey (Arbiter) was available for consultation, but we did not need to disturb him.
The King's School venue in the first floor Vignorian room of the new Keyes Building proved very satisfactory. The association are very grateful to The King's School Worcester for allowing use of these facilities.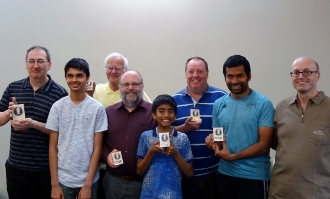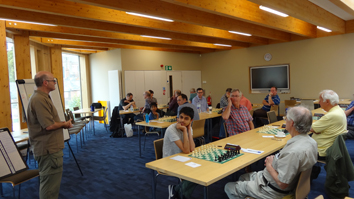 Winners
Overall winner and 2017 Worcestershire individual champion: Kevin Hurney (Greenlands/South Birmingham) 4½ points.
Worcestershire Senior Champion (over-60): Lee Davis (Malvern/Hereford) 3½ points.
Worcestershire Minor Champion (under-130 grade): Rob Bricknell (Redditch) 3 points.
Worcestershire Veteran Champion (over-70): Philip Smith (Worcester) 2½ points.
Worcestershire Junior Champion (under-16): Manvith Sandhu (Halesowen) 2½ points.
Highest ungraded player: Ravi Sandhu (Halesowen) 1½ points.
Full results
Click to view the tournament chart