Upcoming
Words in brown are hyperlinks to congress website, pdf entry form or contact's e-mail.

17 & 18 Sat & Sun Aug. Worcestershire Closed Congress at the King School Worcester. Five round Swiss tournament with half-point byes available rounds 1-4. County titles Open, Women, Veteran, Senior, Junior, Minor and best ungraded.
Sat 30 Nov & Sun 1 Dec. Hereford Chess Congress at The Green Dragon Hotel, Broad Street Hereford HR4 9BG. Three five-round seeded Swiss tournaments: u175,u145 and u120.
League News
8 Jun. In the Bennett Cup individual competition, Lee Davis (Malvern) was first and plays a two-game match with Ray Collett (Woprcester) in the final for the cup.
23 Apr. Redditch A are 2018-9 League Champions!
12 Nov. The draw and format for the individual competitions is published.
15 Sep. Entries invited for the Bennett and Ball Cup competitions. Brian Turner (Malvern) has taken the controller's role for the 2018-9 league individual championships for the Bennett and the Ball cups. All members of clubs affiliated to the league are eligible to enter free of charge.
30 Aug. New president appointed at AGM. Paul Sharratt (Stourbridge) is the new incumbent. After ten years as organiser, Andrew Farthing stood down as organiser of the Bennett and Ball individual competitions and the post is currently vacant. Fees were unchanged at £5 per club. At the awards ceremony, Ian Clack received the shield for league champions Redditch A, Michele Clack the shiled for Division 2 champions Redditch B, Lee Davis (Malvern) the Bennett Cup and Ray Collett (Worcester) the Ball Cup for their wins in the individual tournaments. At a well attended meeting, secretaries arranged fixtures and heard that Redditch have a new venue at Alvechurch Sports & Social Club and Droitwich now meet on Wednesdays.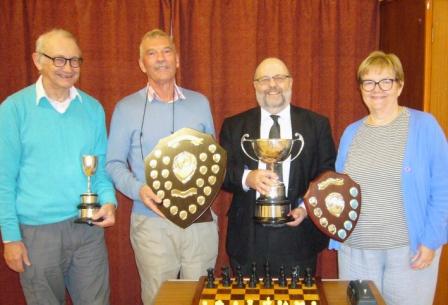 Winners at the 2018 AGM: l-r. Ball Cup; League Champions, Redditch A; Bennett Cup; and Division 2 Champions Redditch B
For older news click the W&D News button on the left.
W&D Chess League in brief
The league was started in 1932. It promotes team and individual chess competition in the district surrounding Worcester. Currently seven clubs and twelve 4-board teams compete in the league events, which are organised in two divisions. The league runs two individual tournaments: the Bennett Cup (open) and the Ball Cup (under-150), which are open to registered players of affiliated clubs. Most of the league business is handled by honorary secretary Andrew Farthing, and President Paul Sharratt manages most of the league's business. For more information and contacts, use the "About WDCL" menu button on the left.