District Chess League agrees merger with County
Final meeting
23 Aug 2022. President Paul Sharratt welcomed representatives from eight clubs. Consultations had shown there was general agreement that the District League should formally merge with the Worcestershire Chess Association and the meeting had one substantive item of business: "That the Worcester & District League should cease to exist as a separate entity and that its activities and assets be transferred to the Worcestershire Chess Association, subject to the latter's agreement and its approval of the proposal submitted by Andrew Farthing for a revised league structure and rules." After a brief debate, this motion was approved unanimously. The meeting was then adjourned to allow discussion of the proposed new league structure for Worcestershire Chess Association. Immediately after the closure of the County Association's, the District League meeting reconvened and representatives confirmed their earlier decision to merge with Worcestershire Chess Association. Worcester & District League lives on as the name of one of the County Association's team competitions. The League's two individual competitions for the Ball and Bennett Cups also continue.
9 Jun 2022. Club representatives met to consider future competitive chess in Worcestershire.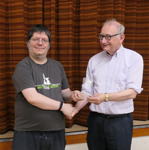 Dan Lambourne (left) receives Joint League trophy from county President Ray Collett
The county association and Worcester District Leaguel called a joint meeting of club representatives to plan for the 2022-3 season and evaluate the temporary league formed for the 2021-2 season. Brian Turner, honorary treasurer reported that funds were in good shape and it will be possible for league fees to be waived for a further season. District league funds were now held in the County Association's account because its own bankers had raised charges to an uneconomic level. Club representatives thought the temporary merged league had worked well and allowed a reasonable level of activity when many players were still worried about risks of catching Covid. Paul Sharratt said that there had been only a third as many rated games played as pre-Covid and several speakers said keen players and new players required more opportunities to play than provided last season. Members agreed that four senior officers of the two organisations (Ray Collett, Andrew Farthing, Paul Sharratt and Brian Turner) should draft proposals for a joint league structure and a potential structure for the County Association that would permit a merger of District League and County Association. It is likely the District League will hold an AGM to consider these proposals and a merger before the county association AGM. At the meeting's conclusion, WCA President Ray Collett presented Dan Lambourne, captain of Redditch team, with the Division 1 trophy.
Meeting of the joint league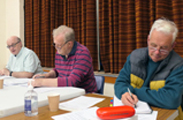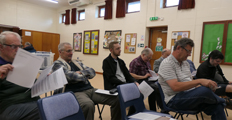 Redditch are league champions
6 Apr. Halesowen had to withdraw from the competition because their venue is being refurbished. The controller has ruled that games in completed matches will be rated, but match results are void for division 1. With all fixtures between teams now complete, Redditch are League Champions.
Longbridge will be Division 2 champions
23 Mar. Longbridge 2 made certain of winning Division 2 with an away win against nearest rivals Kidderminster 2.
Temporary joint league with County
7 Sep. An Extraordinary  General Meeting of members at Droitwich extended for a further year the terms of current officers of the district league. Later the same evening at a joint meeting, the league and county association agreed temporarily to run a joint league with five-board teams in Division 1 and four-board teams in Division 2 for the 2021-2 season. Players rated below 1850 will be eligible to play in both divisions. A second division team may not field more than one player rated over 1850 in a second division match and that player must play top board. A slightly faster time control was agreed to allow time for sanitising at the end of a match and players, except those with medical exemption, will be required to use face-covering, mask or visor when playing league chess in the 2021-2 season. Clubs' team entries should be received by Paul Sharratt by 21 September.
For older news click the W&D News button on the left.