2013-4 Season News
Most recent news at top of page
13 Jul 2014. Bennett and Ball Cups and trophes presented at Worcester Open congress by Hon Sec Andrew Farthing.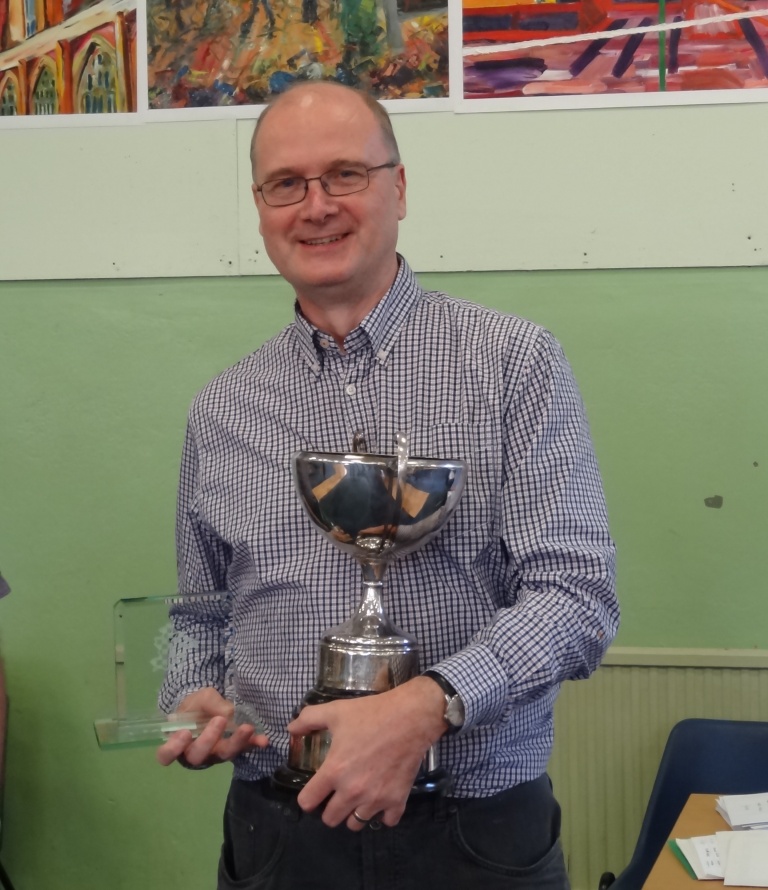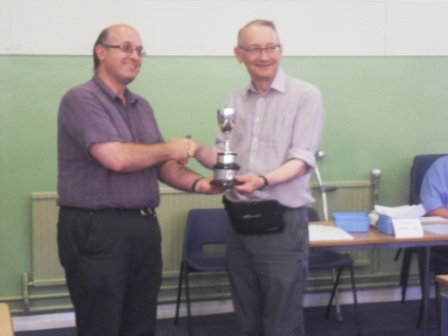 Left: Nigel Towers (Redditch) with Bennett Cup and trophy
Riight: Andrew Farthing (left) presents Ball Cup and trophy to Ray Collett (Worcester)
29 May. Nigel Towers win Bennett Cup. This is the first time Nigel has won the cup. He defeated Brian Turner (Malvern) in the final played at Norton, Worcester. The game was hard fought simplifying rapidly after a Caro Kann Defence.
22 Apr. Collett wins Ball Cup. In the final at Redditch an exciting game saw Ray triumph over Peter Seeley.
26 Mar, Knights pip Bishops - Kidderminster Knights win league championship. Jim Friar reports. In the last league division 1 fixture, Kidderminster Knights made certain of the title crushing their club's Pawns team 4 - 0, elbowing out Worcester Bishops who had been leading. Kidderminster Knights last won the championship in 2003.
5 Mar. Worcester Pawns Div 2 champions. With an emphatic 4-0 win over Stourbridge in their last fixture of the season, Worcester Pawns make certain of the title.
24 Dec. Worcester teams to the fore. At the end of the calendar year, Worcester Bishops were well placed to retain their league title being the only team without a match loss in Division 1. In Division 2, Worcester Pawns shared top spot with Greenlands and both teams have a 100% record after three matches.
15 Oct. Bennett and Ball Cup draw published. In the Bennett Cup, David Roberts (Worcester) defends his title, but Joseph Friar cannoy defend his stewardship of the Ball Cup because he is now graded above 150. There were 15 competitors for the Bennett and 10 for the Ball Cup.
Oct. No team knockout tournament in 2013-4
12 Sep. Andrew Farthing new League Secretary. The Annual meeting and fixtures meeting was held on Thursday 12 September at Claines Church Institute, School Bank Worcester, WR3 7RW at 7:30pm. Andrew Farthing was elected new League Hon Secretary and ECF representative and Maurice Bissell is President. The treasurer's report shows that costs have greatly reduced as a result of almost all league players joining the ECF and very few games require the league to pay game fee.
For older news click the Archive Index menu item and then the relevant year in the table on that page.