2017-8 Season News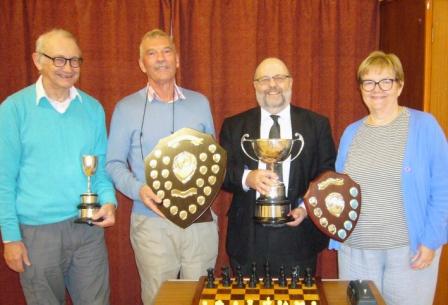 2017-8 season winners: League champions - Redditch A (Ian Clack), Division 2 champions Redditch B (Michele Clack);
individual champions - Lee Davis (Malvern) with Bennett Cup and Ray Collett (Worcester) with the Ball Cup.
10 Aug 2018. Lee Davis wins Bennett Cup. Lee Davis ran out the winner in the final, but it couldn't have been closer. The first standard game was drawn as was the second. In the Armageddon play-off, Lee won by a single second. Ray Collett wins Ball Cup. With several games unplayed, but ahead by 1½ points, the Worcester Player was declared the winner.
22 May. Redditch celebrate double championship titles. With all matches completed, Redditch B are two points ahead of Worcester Pawns and Division 2 champions.
30 Apr. Redditch A are league champions. In an exciting finish to the season, Redditch beat Stourbridge who then beat Malvern to make Redditch A champions.
10 Apr. Brian Turner faces Lee Davis in an all-Malvern final for the Bennett Cup.
8 Apr, Dan Lambourne reports. Redditch win Intermediate Plate National Club title. Redditch tied on 5 points with Telford, but lost out on the tie-break for the Intermediate Championship.
1 Jan. At the start of 2018, Redditch A and Malvern head the league, with Redditch a nose in front with more won games. Last year's champions, Worcester Bishops, are languishing. In Division 2, Worcester Pawns are in front, but Redditch B have a match in hand.
5 Nov. Draws for Ball and Bennett Cup trophies announced. Five players competing for the Bennett Cup have an all-play-all followed by final games between the two highest scoring players. Four compete for the Ball Cup in a double round all-play-all. If the winner has a point or more than the runner-up, the highest scoring is awarded the trophy. If there is a tir for first place, or the winner of the all-play-all leads by less than a point, there will be play-off for the award.
14 Sep 2017. Annual Meeting. Stourbridge took promotion from Division 2 and have entered an additional team in Division 2. Kidderminster Rooks were demoted to Division 2. Division 1 teams play each other home and away and Division 2 team play a single round.