2016-7 Season News
20 Aug. Kevin Hurney is 2017 County champion. Hurney scored 4½ points. Kevin is a member of Greenlands and South Birmingham clubs and regularly turns out for Worcestershire first team. Other prize winners were: Lee Davis (Malvern, 3½ points) Senior champion; Rob Bricknell (Redditch, 3 points) Minor champion; Philip Smith (Worcester, 2½ points) Veteran champion; Manvith Sandhu (Halesowen, 2½ points) Junior champion; and Ravi Sandhu (Halesowen, 1½ points) best ungraded player. Manvith is 9 years old and attends Hallfield School Edgbaston. He proved a very worthy winner of the junior title by beating or holding his own against established county team players.

Use Congress on the left menu for more details.
13 Aug. GM Keith Arkell wins the MCCU@West Brom congress. Worcestershire and Halesowen GM Keith Arkell scored 4½ points from his five games. The decisive game was in round 4 when he beat Leicestershire's GM Mark Hebden. In the final round, a quick draw against FIDE master Peter Sowray secured first place. Other Worcestershire players in the Open were Malcolm Hunt (Halesowen) and Lee Davis (Malvern). Alan Ruffle played in the Major and three juniors who have won honours at Worcester - Arjun Pyda, Chandrahas Nalabotu, and Viswameda Nalabotu - scored well in the Minor tournament.
6 Aug, John Wrench reports. Bewdley 2017 Charity Chess Tournament. Joseph Friar retained the Mayor's Shield after another convincing performance with 5 wins and 1 draw. Twelve-year-old Finlay Boycott-Terry won the Jim Friar 'Highest Junior' Trophy scoring an amazing 5 out of 6 losing only to the winner. Runners-up were Dustin Boycott-Terry and James Friar with Dustin getting second place on tie-break. Rachael Moore on 3 points won the highest scoring woman's prize on tie-break from Catherine Nimmo. Jay Haycock won the highest ungraded player prize. The tournament was organised bu John Wrench and prizes sponsored by several local businesses. Prizes were presented by Bewdley Mayor, Councillor Anna Coleman and just under £300 was raised for St Anne's Church, Bewdley.
| | |
| --- | --- |
| 27 Jul, John Wrench reports. David Spowart wins Kidderminster Shuttle Shield. David emerged victorious in the largest field yet seen in this competition. David Spowart beat David Waud in the final and the losing semifinalists were Maurice Bissell and John Wrench. The trophy was first fought for in the 1950s and is for any players in the Wyre Forest area and members of Kidderminster Chess Club. | |
15 Jul. Droitwich Handicap Rapidplay. New member Ian McMillan took first prize on 16 points and David Cleak was second on 13 points at Droitwich's annual competition at Stoulton.
| | |
| --- | --- |
| Droitwich winners Michael Cleak (left) and Ian McMillan (right) | Summer chess at Bewdley |
11 Jul. John Wrench radio interview. John was interviewed on the Elliot & Toni show and you can hear him again at Toni McDonald sits in at 33 mins into the programme.
8 Jul. Bewdley Chess Club held their annual open air event in the centre of town. See them on Facebook.
4 Jul. Celebration of the Halesowen hoard. To cap a season that netted eight titles, Halesowen Club had a celebration dinner. See pics on the Halesowen website.
June, Liverpool CC website reports. James Friar wins Liverpool Chess Club's chess table. Previous winners of this 1892 table include Amos Burn.
10 Jun. Worcestershire teams knocked out of national finals. In the national semi-final for the Minor Counties Team championship at Derby, Worcestershire levelled the match score, but were unlucky to lose on board count and cannot now defend the title won last year. Meanwhile the under-120 team came off worst against Middlesex 5½-7½ at The Open University Milton Keynes.
9 Jun. James Friar wins Kidderminster Blitz. James beat John Varilone in an Armageddon tie break after both had finished on 9 points. In the Kidderminster Minor Blitz tournament, there was also a tie between Andy Farnsworth and Jeremy Crowther on 6/7. Junior James Knight was third with 5/7.
30 May. Redditch win Team KO competition for the Wheatley Cup. In a close match Redditch defeated Kidderminster. Click Team KO Cup menu item on the left.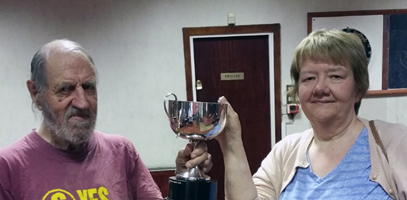 Winning Redditch team captain Michele (right) lifts the KO cup with controller Laurence (left)
25 May. Keith Arkell simul. Keith took on 12 players at Halesowen's simul. John Edge was the only club player to beat Keith. Paul Evans' game was last to finish after Keith ground out a win in a rook-and-pawn ending.
26 May. Geoff Harris passed away peacefully. See report of memorial service held 12 January 2017.
20 May. Two county teams go to national semi-finals. The first team playing in the Minor Counties at The Open University Milton Keynes, beat Essex 9½-6½ to make it first time Worcestershire have had two teams in the national semi-finals.
16 May. GM Jon Speelman gives masterclass in endgame technique at Redditch. About 30 players attended Jon's masterclass. It went all the way from king and pawn endings to practical, unsolved, endgames - the latter illustrated from one of Jon's recent wins at the World Senior team Championships a few weeks ago.
16 May. Halesowen prize winners and confirm Div 2 team seeks promotion in county league. Clement Bowcott-Terry the fastest win of the season, Dustin Bowcott was named player of the year, Nick Arkell won the Summer KO and Jon Asbury won the Reg Beasley Trophy. At the AGM officers were unchanged and the club opted to seek promotion for the 2B team in the county league.
13 May. Worcestershire Under-120 beat Lancashire. Richard Collett's team again benefitted from defaults to snatch a win at Newcastle-under-Lyme on board count. Toni Reed (Redditch), Terry Radford (Droitwich), and Richard Collett (Greenlands) won their games. In the Minor counties, the first team were disappointed to lose their quarter final match against Suffolk. The only Worcestershire player to win was John Edge (Kidderminster). The under-120 team meet Middlesex or Warwickshire in the semi-finals.
8 May. Finalists for the Wheatley Cup. In the semi finals, Kidderminster beat Malvern on handicap and Redditch beat Droitwich in a match between two evenly graded teams.
3 May. Kidderminster Handicap Tournament. John Wrench won the annual tournament with 9 points and no losses. Joseph Friar was second on 8 points.
4 Mar. Worcestershire beat Lincolnshire. Another narrow win, but they all count. With a clean sweep of opponents, Worcestershire are 2017 Midlands Champions. This is the third time Worcestershire have been champions, the last time being in 2012 when Giles Stanton (Redditch) was captain. Ian Ellis (Greenlands), Sam Bradley (Stourbridge), Richard Leaper (Mutual Circle) and Tony Shaw (Stourbridge) won their games.
30 Apr. Worcestershire Club wins Birmingham League. After topping both of the county's own divisions, Halesowen also won the Birmingham & District League Championship, the first time since 2002.
25 Apr. England win bronze in World Seniors Championship. Nigel Short scored 8 points from 9 games to lift England I to bronze position. Worcestershire's Keith Arkell on board 3 scored 5 from 7 games.
18 Apr. Halesowen I win Worcestershire League title with home win against challengers Olton.
5 Apr. Halesowen 2B win League Division 2 with adjourned game victory. It couldn't have been closer. Three teams - Halesowen 2A, Halesowen 2B and Kidderminster could win. The result of the adjourned game on board 5 in the match Halesowen 2B-Kidderminster B decided the championship.
2 Apr. Redditch and Olton share third place in Minor National Club Championships. Both clubs entered the four-board Minor competition and ended up each with 5 points having drawn the match pairing the two Worcestershire League clubs. Olton were a game point ahead.
26 Mar. Halesowen players scoop Birmingham Rapidplay prizes. Nick Arkell claimed a shared second place with 5/7 points in the Open behind clean sweep winner GM Hebden. Windsor Peck shared first prize in the Minor with 6/7.
13 Mar, John Wrench reports. Kidderminster A finished their campaign in Division 2 in the Wolverhampton League with a win against Boldmere St Michael's and ended mid-table just ahead of Stourbridge B. It was Paul Thomas' last evening as captain travelling as so often as a non-playing reserve.
11 Mar. County player Gary Jackson (Halesowen) won the Intermediate tournament at the Blackpool Chess Conference with 5 points.
4 Mar. Worcestershire u140 Midlands team champions again. The county under-140 team joined the Minor Counties team in the national stages of their competitions with a 8½ - 7½ win over Lincolnshire. This is the third time the under-140 team has been Midlands champion. Ian Ellis (Greenlands), Sam Bradley (Stourbridge), Richard Leaper (Mutual Circle) and Tony Shaw (Stourbridge) won their games. The last time Worcestershire were under-140 champions was in 2012 under the capataincy of Giles Stanton (Redditch) who drew his game in the Lincolnshire match.
1 Mar, John Wrench reports. Kidderminster high point. Kidderminster registered an attendance of 43 players at its session. The club hosted three matches simultaneously one being a win over West Bromwich in the Wolverhampton & District Leagu Division 2.
27 Feb. KO team tournament semifinalists. Droitwich knocked out Worcester in the last completed KO team match. In the semifinals, Droitwich play Redditch and Malvern play Kiddermister.
26 Feb. Keith Arkell first in Bristol Open. Local GM Keith vanquished his opponents scoring 5 points from his five games.
19 Feb, Nick Arkell reports. Halesowen players dazzle at Doncaster. Brothers Keith and Nick Arkell shared first place with two other players with 4/5 at the Doncaster open.
18 Feb. Worcestershire u120 lose to Warwickshire. Playing at Leamington, Worcestershire lost to a more highly graded Warwickshire team. Greenlands players scored the team's only wins. Captain Richard Collett won his game on board 6 and on board 12 Frank Cassidy (Greenlands) beat his much higher graded opponent.
17 Feb. Ken Tyson 1927-2017. Former president of Worcester City Club died peacefully at Worcester. For over a decade, Ken played for Worcestershire in Correspondence chess and was captain of Worcester City club teams in both the District and County chess leagues. Read more on the Worcester City Chess Club webpage.
4 Feb. Halesowen players shine at Nottingham Rapidplay. In the Open, Nick Arkell shared second place with 4½/6 behind GM Mark Hebden. Finlay Bowcott-Terry was undisputed first in the Minor with 5½ points.
3 Feb. Worcestershire junior in top 20 for under-12s. Finlay Bowcott-Terry, who has already played for his county, boosted his grade to 143 to put him in the top twenty under-twelve year old players in the country.
1 Feb. First quarter final KO result. Kidderminster beat Greenlands on handicap at Greenlands.

28 Jan, Paul Sharratt reports. Worcestershire u140 beat Derbyshire away. A narrow win away at Derby ensures Worcestershire will qualify for the national finals and puts us in pole position to win the Midlands u140 county team championship. Paul Sharrat (Stourbridge) played a winning captain's game on board 1. Other Worcestershire winners were: Finlay Bowcott-Terry (Stourbridge), Richard Leaper (Mutual Circle), Rob Bricknell (Redditch), Steve Crockett (Redditch), and Terry Radford (Droitwich).
26 Jan. County secretary wins Worcester City Blitz. At the annual 5-minute tournament of Worcester City Club, Ray Collett emerged winner on 7/8 points. Placed 2nd to 4th were David Roberts, Stephen Mellor and Jim Keene on 7 points.
21 Jan. Worcestershire u120 go down to Nottinghamshire. Playing away, Worcestershire were soundly beaten and this time juniors were unable to resue the team. David Smith (Redditch) playing on board 1 saved the team's honour with the only win for Worcestershire.
| | |
| --- | --- |
| 12 Jan. Special Memorial service for Geoff Harris. Geoff passed away peacefully in May 2016 aged 86. He was a member of Stourbridge club, twice county champion in 1961-2 and 1962-3, won 6th position in the Britsh Championship in 1954, and represented England in international team matches in the 1950s. He was a "genuine gentleman of the chess board" playing initially for Lye and then for Stourbridge, helping them to lift several county team titles. Geoff achieved 6th place in the 1954 British Championship congress at Nottingham and was twice Worcestershire county champion in 1961/2 an 1962/3. | Undated picture from Stourbridge CC |
8 Jan, Stewart Fishburne reports. Four Halesowen members play at Telford Congress. In the Open GM Keith Arkell was second on 4/5. John Edge won a grading prize in the open and scored 2½. Nick Panathanasopoulos scored 3½ in the Major and Windsor Peck 3 in the Minor.
8 Jan, Shrops CA report. Nigel Towers (Redditch) shared first place in the Major \tournament at Telford in the Shropshire Chess Congress.
8 Jan. Draw for the KO team championships published.
7 Jan, Eric Horwill and Brian Dudley report. Memorial service for Stourbridge and county stalwart. Geoff Harris, a lifetime member of Stourbridge, was remembered at a service at St Peter's Church, Pedmore. At his peak, Geoff was a 200+ player, twice champion of Worcestershire in 1961-2 and 1962-3. He represented England and of course Worcestershire in team play. His best performance in the British Championship was in 1954 when he was 6th. He played board 1 for the Lye team to win the Worcestershire Chess League and after the closure of that club joined Stourbridge. Again playing on board 1 he helped his team to win two BDCL championship and several Worcestershire titles. He is remembered as a "genuine gentleman of the chess board" and will be much missed by all. See full tribute on the ECF website.
6 Jan. Worcestershire u140 beat Nottinghamshire away. A splendid result in the opening match with a clear win over Nottingham. The engine room power was provided by Eric Horwill (Stourbridge), Dave Spowart (Kidderminster), Alex Holowczak (Warley Quinborne), Ian Ellis (Greenlands), Sam Bradley (Stourbridge), all winning on boards 2 to 6. Other wins were scored by Giles Stanton (Redditch), Tony Shaw (Halesowen), and David Smith (Redditch). Curiously, the match was topped and tailed by Radfords. On board 1 Mark Radford drew against Paul Sharratt (Stourbridge), whereas Worcester's Radford, Terry (Droitwich) much out-graded and playing at very short notice after another player's illness, came off worse against Chris Sargeant on board 16.
4 Jan. Worcestershire players at Hastings International Chess Congress. GM Keith Arkell (Stourbridge) won the Blitz tournament with 7½/9. He also played in the Masters tournament and finished with 4½/9. Martin Burrows, formerly St John's Worcester, is also tried his hand in the Masters and scored 4/9.
29 Dec, John Wrench reports. John Whitehead Kidderminster quickplay champ. Although seeded only 8th of 12 players, John was consistent throughout and a worthy winner.
16 Dec. Worcestershire players at London Chess Festival. Keith Arkell (Stourbridge) scored 5½ points from his nine rounds in the FIDE Open. Meanwhile, Arnold Kirkland scored 2/5 in the weekday u1750 tournament.
11 Dec. Juniors rescue u120 county team. With two days to go, captain Richard Collett feared he would not be able to field a full team in his opening match. Junior players came to the rescue. Monty Woodhouse and Daniel Arkell scored wins in their first game for Worcestershire.
11 Dec, Nottingham Gambit website reports. Steve Foster 1953-2016 It is reported that Steve Foster (Nottingham Central) died peacefully at home after a short illness. He played for Worcestershire and captained St John's Worcester teams before retiring to Nottingham. Our condolences to his family and team colleagues. Nottingham Gambit and Ashfield websites give more information.
10 Dec. Worcestershire under-120 team beat Lincolnshire at Sharnford, Leics 7½ - 4½, the teams first win for over three year. Captain Richard Collett said the team had been saved by two juniors Daniel Arkell, and Monty Woodhouse, who turned out at short notice to enable him to field a full team.
3 Dec. Worcestershire beat Lincolnshire 8½ - 7½ at Frolesworth, Leics. Pavel Besedin (South Birmingham), John Edge (Halesowen), Brian Turner (Malvern), John Wrench (Kidderminster), Stephen Woodhouse (Midland Monarchs), Gary Jackson (Redditch) and Ray Collett (Worcester) won their games. To see the full score sheet click Open Team in the menu on the left for link to the MCCU website.
30 Nov. Magnus Carlsen retains World Chess Championship by winning fourth tie-break rapid game with a splendid queen sacrifice. Read more by chess columnist Leonard Barden
29 Oct. Worcestershire beat Leicestershire away. In the second game for the Midlands county team championship, Worcestershire, without grandmaster support, won away at Thurmaston 8½ - 7½. Pavel Besedin (South Birmingham), Lee Davis (Malvern), Gary Jackson (Redditch) and John Varilone (Kidderminster) won their games. To see the full score sheet click Open Team in the menu on the left for link to the MCCU website.
8 Oct. Worcestershire beat Warwickshire in the Midlands team Championship. The score in the team's opening home match was 9½ - 6½. To see the report, click on the Open Team in the menu on the left for link to full score sheet.
6 Oct. Veteran player Nick Harris is Worcester City's 2016 club champion, beating Alaric Stephen in the final. See club website.
5 Oct, John Wrench reports. Kidderminster through to next round of Pittaway Cup. Kidderminster beat West Bromwich 4½ - 3½ in the first round of the Wolverhampton League Cup competition.
22 Sep, ECF website. Worcestershire players seek ECF directorships. Two Worcestershire players are standing for volunteer directorships in the ECF. Alex Holowczak (Warley Quinborne) is standing for re-election as Director of Home Chess. Stephen Woodhouse (Worcs CA) is standing for one of the Non-executive Directorships. See ECF website for election statements and Council papers.
1 Sep, ECF reports. ECF Tradewise GP winners. Marco Ho (Olton & South Birmingham) won the most improved player award for the u180 category and Keith Arkell (Halesowen & Stourbridge) was runner-up in the Open GP..
28 Aug. Bewdley Rapidplay Chess Tournament was won by Joseph Friar with 6 points with older brother James Friar second on 5 points. On tie-breaks, Alison Johnson (3 points) won the women's prize, and Sam Harris, on 2 points, won the junior prize. The best currently ungraded players were Hugh Morgan and Mike Hall. Prizes were presented by Cllr John Beeson, Mayor of Bewdley. The event was organised by John Wrench at Wribbenhall Parish Rooms, and raised over £300 for St Anne's Parish Church, Bewdley. See also Kidderminster Shuttle for pic.
25 Aug. County teams. Worcestershire teams compete for Midlands crowns in the Championship, u140 and u120 team competitions organised by the Midland Counties Chess Union. Captains are John Wrench, Paul Sharratt, and Richard Collett respectively. If you would like to play county chess for Worcestershire on Saturday afternoons, please contact captains using the links immediately above.
19 Aug. Worcestershire Chess League fixtures arranged. Olton, took promotion to play in Division I and two new teams join Division II: Stourbridge and Halesowen IIB. Read more on the WCL website.
19 Aug. County Executive meets. Geoff Marchant (Malvern) was awarded the Woodcock Prize for the most enterprising game of the season and Mercia win the Wheatley Memorial Cup after beating Worcester B in the finals of the team handicap KO competition. See Geoff Marchant's win.
13 Aug. Dudley & District League Annual Meeting. Trophies were awarded to League Champion team Stourbridge, Division 2 winners South Birmingham, and Division 3 winners Bushbury. Finaly Bowcott-Terry (Stourbridge) was awarded the prize for the league's best junior player. All officers were re-elected.